Where to Stay in Ajijic
Nueva Posada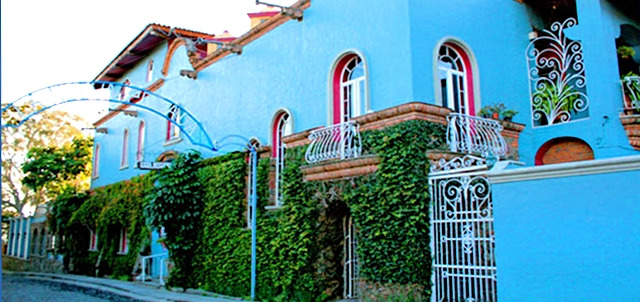 "The most beautiful place on the shores of Lake Chapala"
Address:
Donato Guerra #9
P.O. Box #30
Ajijic, Jalisco, 45920
Mexico
Telephone: 52 (376) 766-1344 Fax: 52 (376) 766-1444
For more information and to make reservations please visit their website
Location:
On the Lakeside and in the centre of the picturesque village of Ajijic.
Your Hosts:
The Eager Family
Room Rates:
$1050 Pesos (with view) – includes a full breakfast.
La Nueva Posada is the newest "old" place in the quaint village of Ajijic. It is reminiscent of a Mexican Colonial Inn with all the old world charm. La Posada is romantic yet sophisticated, with personal attention from the Eagar family. We have made a commitment to excellence since arriving in Mexico in 1975.
The Inn has 17 Suites on three levels. Rooms are tastefully decorated with colonial furniture and original watercolors created by local artists. Most of the Suites have breath-taking lake views and the modern features of a grand hotel.
La Posada is embraced on one side by a large tropical garden planted with the exotic flowers for which lakeside is famous. On the other side there is an intimate garden and swimming pool.
In the Restaurant we serve excellent continental cuisine along with many traditional Mexican dishes prepared by our Executive Chef, Lorraine Russo. Enjoy the sunset in our intimate Lounge, where live romantic music can be heard daily. You may also relax or dine under a gigantic rubber tree located in the middle of our lush garden. All dining areas overlook the lovely grounds and the lake.
To further enjoy your stay, you shall be pampered by our outstanding staff who will make you feel completely at home in Ajijic.
Locally, we have horseback riding, golf, tennis, theatre playhouse, shopping, natural hot spring baths and many other things to do. Our Reception Staff will be glad to organize any number of excursions into other parts of Colonial Mexico, or a visit to one of Mexico's beautiful beaches.
Ajijic is a 35 minute drive from Guadalajara and a 22 minute drive from the International Airport on a modern 4 lane highway. The taxi ride from the airport to Ajijic costs approximately $17 US. Buses run every hour to Guadalajara and car rentals are available locally.
When you are planning your vacation or get-away, come and experience La Nueva Posada.
Thank-you